SolarEdge's new single-phase inverters SE3680H, SE4000H, SE5000H, SE6000H are the first in the world with chargers for electric vehicles.  The customers can recharge their cars with photovoltaic energy, increasing self-consumption and decreasing costs in the bill.
Main features inverter with battery charger
Thanks to the new SolarEdge inverter, it will no longer be necessary to install an additional charger, as with this new system, electric vehicles will recharge 2.5 times faster than with traditional chargers. On this device you can also benefit from the integration with the SolarEdge monitoring platform, so you can always keep an eye on the state of charge of the battery.
Also, this new system guarantees:
Intelligent programming with time band rates
Operation and commissioning via APP
Display of the energy contained in the batteries, the duration of the recharge and the percentage of charge via photovoltaic energy
What are the advantages?
The new inverters, in addition to maximizing self-consumption by using excess photovoltaic energy to recharge the vehicle, guarantee many other advantages:
99% efficiency
High reliability
Being small and light, it is very easy to install
Like other inverters of this brand, this is also designed to work with Solaredge power optimizers
It has a 12-year warranty, extendable to 20 or 25
Energy Mobility, Hybrid inverter, Inverter, Photovoltaic inverter, Residential inverter, SolarEdge, SolarEdge, SolarEdge
EV Charging Single Phase Inverter SE3680H, SE4000H, SE5000H, SE6000H

---
The world's first photovoltaic inverter with chargers for electric vehicles. With this 2 in 1 inverter you not only manage the energy produced by the photovoltaic system but also recharge your electric car. Using the electric network and photovoltaic energy at the same time.
Datasheet English
Manuals and certification
Fiche technique Français
Hoja técnica Español (EU)
Datenblatt Deutsch
Complete documentation
Single-phase inverter range with battery charger for electric vehicles. Combines photovoltaic energy with that of the grid with the "Solar Boost" mode,
it allows you to recharge your electric vehicle at a speed 2.5 times faster than a standard vehicle charger.
Single-phase inverter with HD-Wave technology
Combines solar and grid power for EV charging up to 6 times faster than a typical Level 1 charger
Designed to work specifically with SolarEdge power optimizers
Record-breaking 99% efficiency and high reliability, powered by HD-Wave technology
Small, lightweight, and as easy to install and commission as a standard SolarEdge inverter
Saves space on main distribution panel to avoid potential upgrade
Built-in, module-level monitoring (monitoring connection is also required for first-time EV charging)
Advanced safety features, including integrated arc fault protection
Flexible selection of charger cable types and lengths (cable and holder ordered separately)
SolarEdge monitoring platform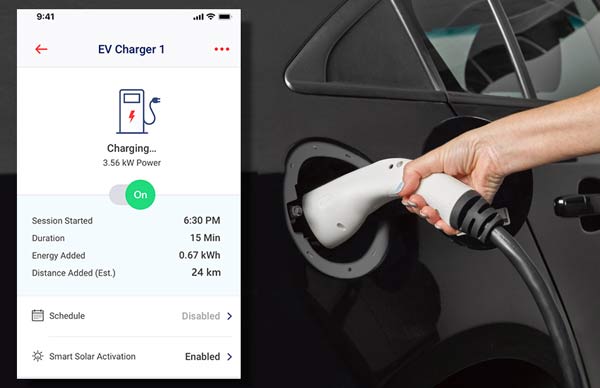 Perfect integration with the SolarEdge monitoring platform, you can monitor charge levels, set charging programs and check the status of the vehicle's charge.
Remote operation via mobile app — turn charging on and off
Easy inverter commissioning directly through your smartphone using the SetApp mobile application
Smart-scheduling for use with Time of Use (TOU) rates — charge from the grid during off-peak hours
Charging cable
Possibility to choose the type and length of the charging cable (cable and case to be ordered separately)
Warranty
12 year warranty, extendable to 20 or 25 years
For more information: https://www.solaredge.com/us/products/ev-charger#/