The installation of a photovoltaic system becomes increasingly smart, thanks to the innovations brought to the market by SolarEdge, the photovoltaic system produces more and the installer's activities are simplified.
The launch of the SolarEdge smart photovoltaic module with integrated power optimizer is a significant benefit and simplifies installation.
VP Solar has decided to propose "Smart Spring" the promotion dedicated to the SolarEdge smart module in the period from 15 February to 31 May 2020 to know the product benefiting from special conditions.
The high-quality 60-cell monocrystalline smart module of SolarEdge, with black frame and elegant design, expresses maximum performance thanks to the integrated optimization that allows constant monitoring of the maximum power point (MPPT) of each module, with high reliability and efficiency of the whole system.
The logistic, installation and maintenance management of the components of a photovoltaic system is simplified: the module serial and optimizer positioned on the front of the module allows a quick and quick scan and mapping of the system layout, even during maintenance.
The warranty of the module (12 years of factory and 25 on energy production) and of the optimizer (25 years) also refers to a single serial.
The SolarEdge smart module also offers a high level of safety, automatically reducing the voltage in the event of an emergency or when the inverter is disconnected, and it can also be easily integrated with energy storage and electric vehicle charging system.
For over 20 years VP Solar has been committed to selecting and offering the market innovative, performing, reliable and competitive products.
With VP Solar's "Smart Spring" promotion, Italian installers can offer their customers systems with the SolarEdge brand, benefiting from special launch conditions.
For more information on the current promotion, contact the VP Solar sales team directly: [email protected] | +39 0423 632720
VP Solar is a distributor of SolarEdge systems: optimizers, single-phase or three-phase inverters, systems for energy storage and for charging electric cars.
SolarEdge systems can be applied to residential, commercial and industrial systems, both in the new installation phase and in the revamping phase.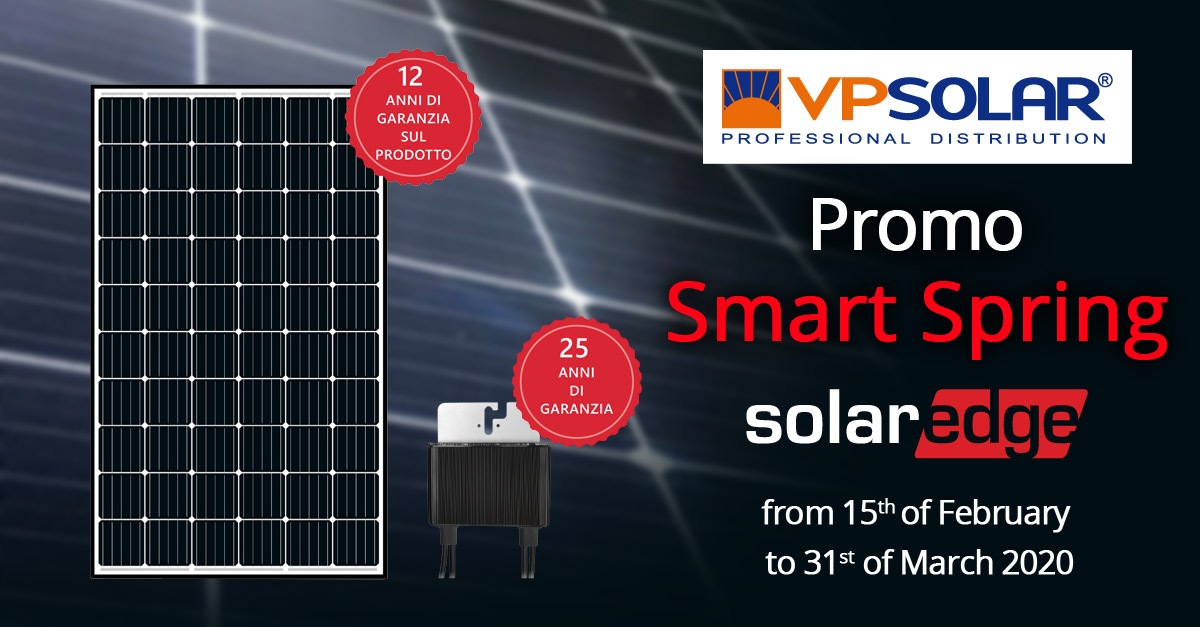 Smart Spring Promotion
Dedicated to the SolarEdge smart module in the period between 15 February and 31 May 2020 to know the product benefiting from special conditions