JinkoSolar is one of the most innovative and largest integrated manufacturers of PV modules in the world. Its products are distributed in over 160 countries around the world.
JinkoSolar in its numerous production plants assembly quality PV modules with the latest technologies developed by its R&D team for any market sector, from modules for residential to industrial systems to high power modules for utility scale systems.
More than 80 GW of JinkSolar modules installed all over the world.
Series of Tiger Neo N-Type modules for large systems with power up to 620W
The latest series of modules released at the end of 2021 is the Tiger Neo which is diversified into 5 different sub-models depending on the application, including 2 bifacial models.
Tiger Neo 78HC and Tiger Neo 78HC-BDV (bifacial version) utility scale systems, Tiger Neo 72HC and Tiger Neo 72HC-BDV (bifacial version) for commercial rooftop systems, while Tiger Neo 60HC for residential rooftop.
All these modules have in common the 210 mm G12 size cells with TOPCon N Type technology.
TOPCon technology
The TOPCon technology consists in a selective passivation of the wafer which determines lower resistance losses and increases the Voc of the cell.
The further advantages are a decrease in losses for LID (light-induced degradation) and LETID (light and elevated temperature-induced degradation), an improvement in the temperature coefficient which is only -0.30%/° C which allows the modules to improve the energy yield by even 2% compared to P-Type cells by decreasing the operating temperature (NOCT).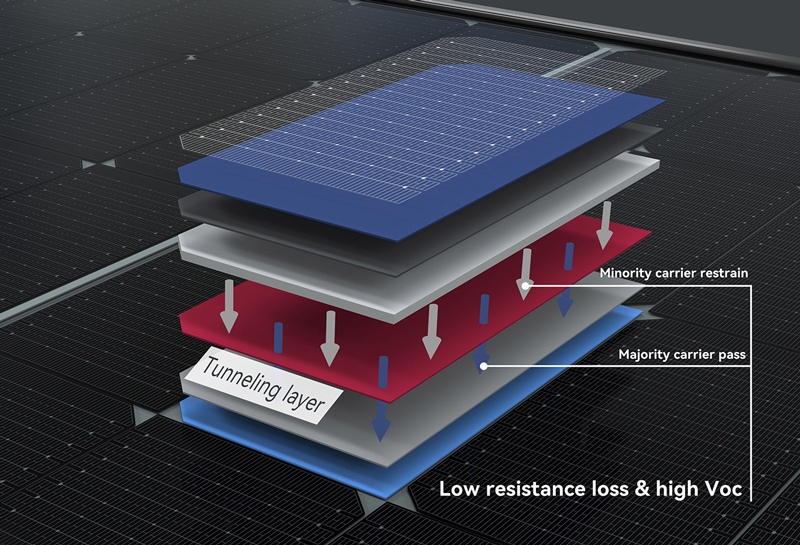 Half-Cut technology
The cells are cut in half (Half-Cut technology) for better shadow performance and decrease internal losses and the current is collected by multiple bus-bars (SMBBs).
Potential Induced Degradation
Thanks to the control of raw materials and production control, they have an exceptional resistance to PID (Potential Induced Degradation). The 35 mm frame guarantees loads up to 5400 Pa even in the largest models.
12 year warranty on manufacturing defects and 30 years on manufacturability
The safety of JinkoSolar on this technology is expressed in the guarantee which is 12 years on manufacturing defects and 30 years on the power output with annual degradation of less than -0.4% with degradation in the first year of operation within 1%, therefore you will still have 84.7% of guaranteed power at the end of the warranty.