Solar-Log is a leading company in photovoltaic system monitoring. The Solar-Log ™ product series guarantees an efficient, professional and qualified monitoring service, which can be combined with all the main inverter brands on the market.
Main features
The product range offers various solutions for monitoring your photovoltaic system, ranging from single-family homes to the industrial operations or the solar power stations. In fact, with Solar-Log, a series of advantages are guaranteed that make it a valid and effective product:
High flexibility thanks to the independence from the inverter
Quick and easy installation, no particular knowledge is required to complete the commissioning process correctly.
In 2017, the international research companies GTM Research and Navigant Research established the position of Solar-Log as a market leader for inverter-independent monitoring systems, both for residential and commercial photovoltaic systems.
Solar-Log WEB EnerestTM is the web portal for the protection and monitoring of your system. Available in the XL versions (for installers), M and L (for the end customer); it offers the possibility of maintaining control of your system at all times.
The Solar-Log product range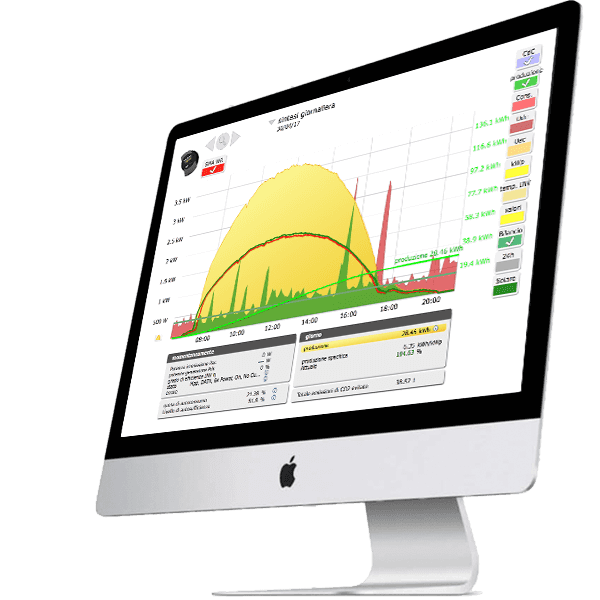 The Solar-Log product series includes:
Solar-Log 50 Gateway: this device acts as a gateway between the photovoltaic system and the Solar-Log WEB EnerestTM portal. It is designed for all residential systems up to 15 kWp. The basic version of the Gateway also includes x% power reduction and can be extended individually, by purchasing software licenses within the license portal (license.solar-log.com). This requires an active connection between the Solar-Log 50 and the Internet.
Solar-Log 1200, 1900 and 2000: they are the family of products for monitoring the systems up to, respectively, 15, 100 and 2000 (versions 1900 and 2000) kWp. Depending on the sizes, you can have different features, for example in the 1200 and 2000 versions there is a 4.3 "touchscreen.
What are the advantages?
In general, these monitoring devices guarantee a series of advantages compared to the inverter integrated systems:
Easy inverter replacement
Efficient string-level monitoring
Multiple functions to optimize self-consumption
Technical support before, during and after device installation
Extensive technical know-how, with over 276,000 systems installed worldwide (residential, commercial and industrial sector)
Compatible with 130 manufacturers and 2,300 inverter models.