In addition to private houses, more and more companies are now opting for the use of a photovoltaic system, seeing in this solution a real possibility of savings.
In this sense, Kostal has introduced the new PIKO 36 EPC which, thanks to a peak power of 36 kVA and a maximum degree of efficiency of 98.7%, is suitable for the needs of large systems, satisfying many of the specific requirements.
This new inverter of the PIKO family has numerous advantages in terms of flexibility, communication and practicality.
Main advantages
This inverter solution has simple installation, fast commissioning and increased security.
Simple installation
The new PIKO 36 EPC has a simple and quick installation. This is due to several aspects common to many KOSTAL inverters.
First of all, the maximum DC voltage of 1100 V allows longer module strings (up to 25), reducing power loss and costs.
The 6 DC inputs are fitted with SUNCLIX connectors, which ensure a connection without instrumentation and immediate. The last aspect concerns the protection of the casing, which being IP65, allows safe use both externally and internally.
Commissioning
The Comboard, common in the PIKO inverter series, is also used in the PIKO 36 EPC. In this model, there are also two network entry points (RJ45) and an RS485 connection.
Greater security
In addition to this, as regards product safety, it is possible, on request, to install both high DC and AC side of the overvoltage arresters (type 2). This also applies to RS485 and network communication (RJ45).
As can also be seen from the following images, thanks to KOSTAL Smart DC Guard there are no yield losses and no special maintenance is required on the device.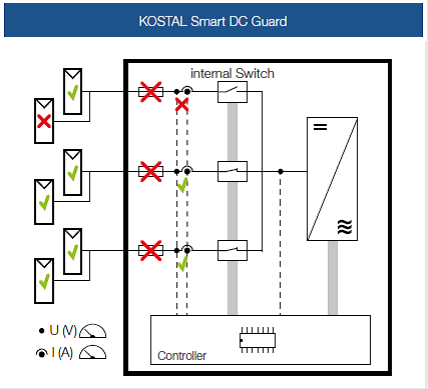 Furthermore, string fuses are not required. KOSTAL Smart AC integrated switch instead, replaces the external coordinated switch.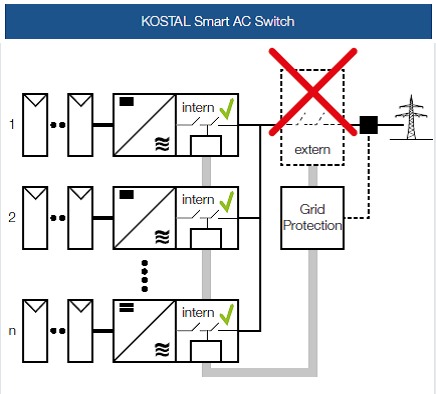 Inverters, Kostal
Kostal PIKO 36 EPC

---
The PIKO 36 EPC peak power of 36 kVA and a maximum degree of efficiency of 98.7%. Ideal for large plants and large projects.
simple and quick installation, maximum flexibility
maximum DC voltage of 1100 V
string lengths can be realized up to 25 modules
IP65
Datasheet English
Fiche technique Français
Hoja técnica Español (EU)
Datenblatt Deutsch
Complete documentation
Optimised generator design with system voltage of up to 1,100 V
Integrated KOSTAL Smart AC Switch takes the place of the external circuit breaker
KOSTAL Smart DC Guard protects the generator. Loss-free and requires no maintenance. No need for string fuses.
Simple DC installation at an attractive cost without any string distribution boxes
Generator is disconnected on site by integrated DC voltage separator
Over-assignment of up to 50% (DC to AC) permits flexible generator design
Smart Performance
Maximum energy yield thanks to high certified efficiency (>98%)
In the event of an error, individual strings are shut down to maintain high availability
The connected PV strings are monitored in pairs for optimum monitoring and service
Integrated, certified grid service functions ensure reliable operation
Smart Connected
Simple communication (daisy chain) via dual LAN interface (RJ45) with integrated switch
Tried and tested communication via RS485 bus integrated as standard
Compatible with many plant controllers and data loggers, so you can use the monitoring system you prefer
Integrated data loggers back system information up at all times
Smart Installation
Optimum protection from dust and water for tough outdoor use (protection class IP65)
Low weight for simple transport and installation
Quick, uncomplicated, and tool‑free AC and DC installation
Prepared for protection against overvoltage on the AC, DC and communication side
Cost-optimised 4-wire AC connection, no neutral wire
KOSTAL (PIKO) Solar Plan configuration software for all planning work with the PIKO 36 EPC.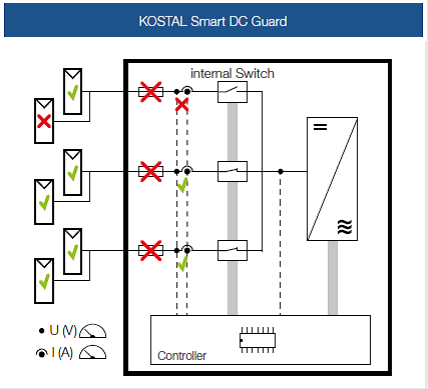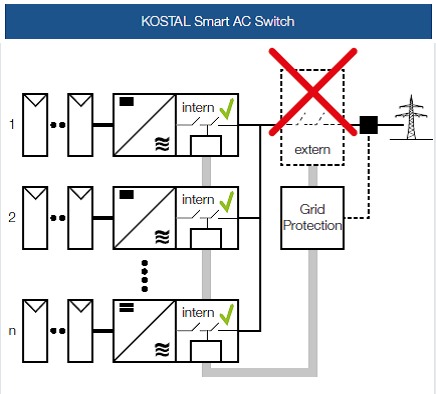 Kostal PIKO 36 EPC
was last modified:
November 26th, 2019
by
KOSTAL, the new inverter PIKO 36 EPC
was last modified:
November 11th, 2020
by