In addition to private houses, more and more companies are now opting for the use of a photovoltaic system, seeing in this solution a real possibility of savings.
In this sense, Kostal has introduced the new PIKO 36 EPC which, thanks to a peak power of 36 kVA and a maximum degree of efficiency of 98.7%, is suitable for the needs of large systems, satisfying many of the specific requirements.
This new inverter of the PIKO family has numerous advantages in terms of flexibility, communication and practicality.
Main advantages
This inverter solution has simple installation, fast commissioning and increased security.
Simple installation
The new PIKO 36 EPC has a simple and quick installation. This is due to several aspects common to many KOSTAL inverters.
First of all, the maximum DC voltage of 1100 V allows longer module strings (up to 25), reducing power loss and costs.
The 6 DC inputs are fitted with SUNCLIX connectors, which ensure a connection without instrumentation and immediate. The last aspect concerns the protection of the casing, which being IP65, allows safe use both externally and internally.
Commissioning
The Comboard, common in the PIKO inverter series, is also used in the PIKO 36 EPC. In this model, there are also two network entry points (RJ45) and an RS485 connection.
Greater security
In addition to this, as regards product safety, it is possible, on request, to install both high DC and AC side of the overvoltage arresters (type 2). This also applies to RS485 and network communication (RJ45).
As can also be seen from the following images, thanks to KOSTAL Smart DC Guard there are no yield losses and no special maintenance is required on the device.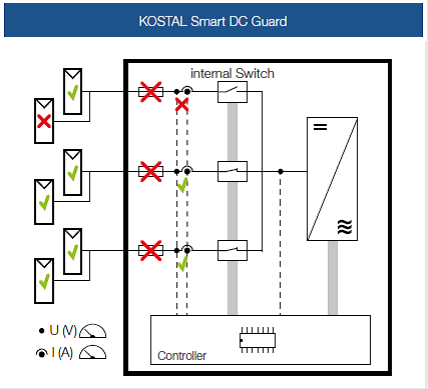 Furthermore, string fuses are not required. KOSTAL Smart AC integrated switch instead, replaces the external coordinated switch.