Poland, with its plan for green energy, will change a lot its energy sources. In fact, at the moment, this country produces most of its energy with old carbon-fueled power plants.
Renewable energy, a plan to turn
In order to respect the obligations imposed by UE, the Energy Ministry has indicated in the national plan for climate and energy 2021-2030 that the RES quote in gross final energy consumption, will arrive at about 13.8% by 2020.
This value will not satisfy the EU objection for Poland that is 15%. For this reason, this country will have to buy the amount of missing energy. The cost of this operation will amount to about 1.86 billion euro.
As shown in the graph the quantity of MW that has been provided between 2005 and 2018 is a very low quantity compared to the real needs of the country.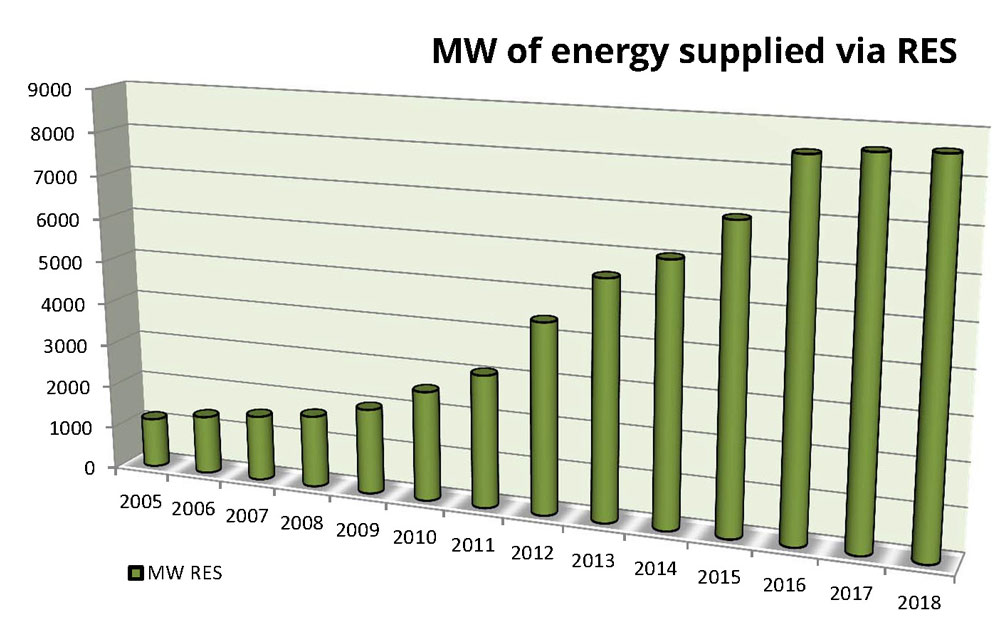 In addition, the RES quote will be about 21% by 2030.
200 MW of Solar PV against the carbon-fueled
Solar PV could be one of the more efficient solutions to increase the quote of RES in gross final energy consumption for Poland.
At the moment, the installed capacity of PV in this country is about 300 MW. For this reason, solar energy has covered only a small per cent of the total energetic requirements. Despite this  Poland plans to install about 200 MW per year thanks to the planned incentives for small consumers.
The road to improving the energy supply to renewable energy sources is currently very long. In fact, in the last 60 years, the per cent of electricity covered by carbon-fueled sources has always been higher than 80%. On the other hand, in the last years, the per cent has been in constantly decrease.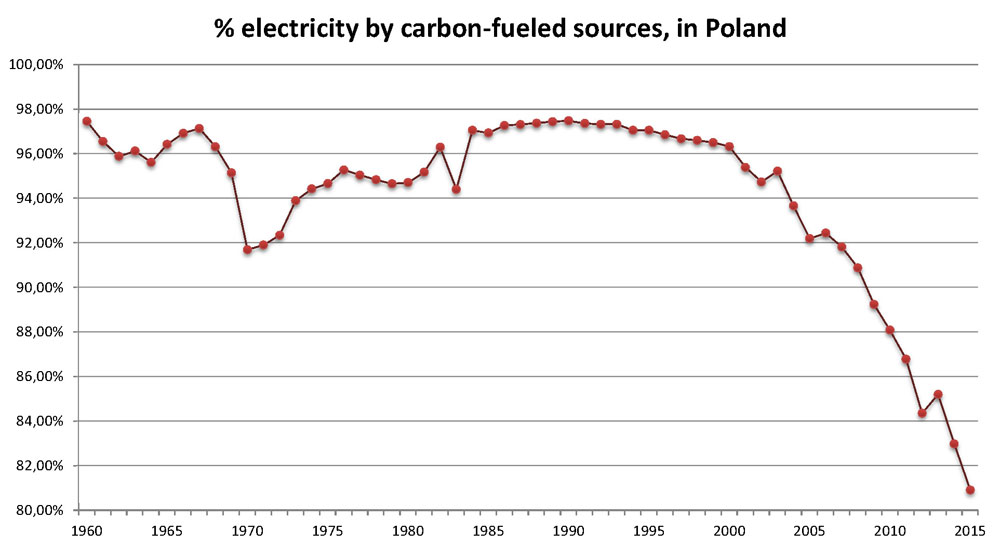 RES, the way to improve
During the next years, Poland will introduce some measures to improve the situation of RES. The aim is to increase the coverage of this type of sources in energy distribution.
Some of these steps are:
A possibility to support the development of renewable energy sources in the energy sector is achieved with the introduction of an auction system. This type of support system allows directing the aid towards selected areas and sectors, thus allowing the optimization of the energy mix in the electricity area
A system of feed-in tariffs and injection premiums – addressed to sources with the lowest power. These are used to manage the energy that could be not used by a small producer.
subsidies and repayable assistance – a mechanism that depends on local needs