VP Solar is the official JinkoSolar distributor, confirming the professionalism and reliability shown, offering customers high-quality products and solutions.
JinkoSolar, a global leader in the photovoltaic energy sector, as in 2019, was awarded the 'Top Brand PV Europe Seal 2020' award by the EuPD Research research institute.
Jinko Solar photovoltaic modules
Among the products offered in VP Solar's 2020 list, we find the range of monocrystalline and polycrystalline photovoltaic panels with 60 cells or 120 half-cells.
Monocrystalline:
Cheetah: mono PERC – 1500V
Eagle: mono PERC 60 cells
Polycrystalline:
Eagle POLY JKMxxxPP-60
JinkoSolar modules of the Eagle series are the first modules in the world without PID, with conditions equal to 85 ° C / 85% RH.
This panel is resistant to the most difficult weather conditions, tested for snow loads up to 5400 Pa.
With these characteristics, this series of panels manage to give maximum efficiency even in situations of high temperature and humidity. Thanks to the optimized design, optimal performance is guaranteed even in low light conditions.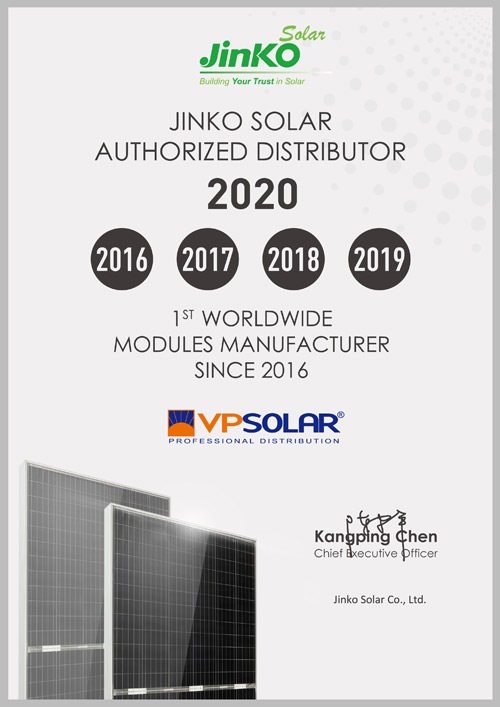 Cheetah – mono PERC – 1500V – JKMxxx-60H-V
The Half-cells monocrystalline module of the Cheetah series is a high-efficiency product (up to 19.85%) thanks to the new 5 busbar cell technology, with a maximum voltage of 1500V.
JinkoSolar's JKMxxx-60H-V panel has a 10-year product warranty and a 25-year warranty on linear power, as in the case of the Eagle POLY JKMxxxPP-60 model.
Eagle mono PERC 60 cells JKM305M-60
This 60-cell monocrystalline photovoltaic module offers excellent performance even in conditions of low radiation, due to the technology with 5 busbar solar cells.
The panel is certified to withstand high wind loads (2400 Pa) and snow (5400 Pa) and is certified by TUV NORD for salt spray and ammonia.
VP Solar official JinkoSolar distributor
was last modified:
June 5th, 2020
by