In order to support professionals, Fronius enhanced the digital tools to set up and monitoring photovoltaic systems with Fronius Solar.creator and Fronius Solar.web.
Fronius solar.creator: configuration software
This free tool allows you to configure and create detailed reports of new photovoltaic systems to share with your customers during the consultancy phase.
This configuration tool with easy and flexible interface allows a complete design of photovoltaic systems with many integrated features such as:
Connection to Google Maps and weather station to determine the position and irradiation data to estimate the yields of the PV system;
Analysis of energy consumption profiles based on predefined load profiles, with weekly or annual view;
Possibility of combining the photovoltaic modules available on the market to precisely define the project;
Automatic recommendations for matching inverters and other Fronius components for an optimal setup;
Economic calculation to evaluate the actual savings;
Detailed reports to always have the most important information under control;
Easy export and co-sharing of configurations.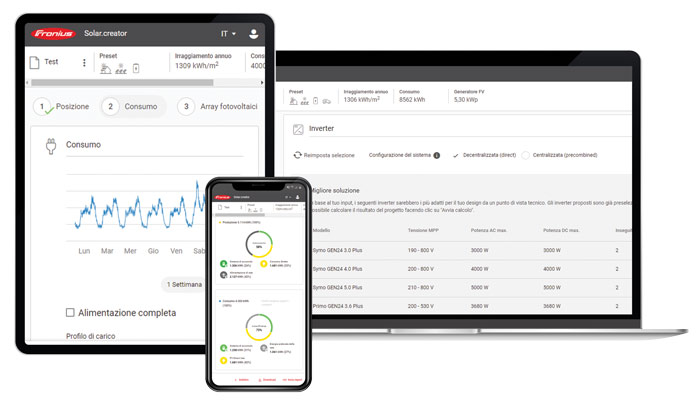 How to use Fronius solar.creator
To start configuring your projects, just create your own account and you can access the portal from any device, smartphone, tablet or computer.
With a single account, you can create projects for various clients and share reports online with collaborators and clients.
The system will provide a document with key configuration data such as overview of required components, production estimates and end customer graphs are also available to help customers understand plant operation, energy flows and the value of self-consumption and cost reduction.
Fronius Solar.web: monitoring and analysis tool
In addition to updating installers in real time on the status of the system, the professional monitoring tool Fronius Solar.web offers comprehensive analysis solutions that allow both the owner and the installer to evaluate performance and improve system data
Also for this portal it is necessary to create your own online account and once the system has been configured it will be possible to monitor all the data in real time.
You may also set up automatic notifications for errors, which can be quickly identified and corrected even remotely.
The combination of the Fronius Solar.web portal and Fronius Solar.SOS allows you to analyze the malfunction in more detail and identify the possible causes independently.
Fronius Solar.web is available in 2 versions:
Basic version: free, it allows you to analyze and monitor the system and receive malfunction notifications;
Premium paid version has advanced features and unlimited data history.
Fronius Solar.SOS to support installers
Fronius Solar.SOS is the tool to support installers on technical requests, it can be started directly online via the application even at the place of installation. It will be necessary to use the serial number of the inverter or a state code to start the troubleshooting, ordering spare parts and also solving problems independently, due to the documentation and manuals that are always available.
This portal makes troubleshooting and ordering spare parts faster by avoiding telephone waiting time with Technical Support. In any case, it will be possible to interact with the Fronius Team to get quick answers via integrated messaging.