Over the years, VP Solar has consolidated its position as a leader in the professional distribution of photovoltaic systems and storage systems thanks to its engineering skills, strategic vision and international agreements with the major world producers.
The storage sector is growing strongly, both in combination with the new installation of photovoltaic systems and as an upgrade intervention in existing systems.
To inform and communicate product, market, strategic and vision news to customers, VP Solar publishes the new Storage Guide 2020, which in the previous version was much appreciated by operators.
Three sections: information, new products, product comparison
The Storage Guide presents an information section on topics related to storage, such as defining the types of inverters for storage and how to connect to the network.
Particular emphasis is given to the prospect for storage plants from lithium price and technology, for the internet of things and Blockchain for energy.
The second session reviews the storage products and news from the major world manufacturers of inverters and batteries, with simple and clear descriptions of their features and functionality.
As regards the inverters, a simple icon cataloguing has been introduced which at a glance provides information on the type of inverter (whether hybrid, the battery only or only photovoltaic), the configuration for connection to the grid, the availability of back-up, etc. The battery that can be combined to create the complete system is indicated for each inverter.
The third session of the Storage 2020 Guide is the new Storage Map which presents the possible compatibility between the inverter model and the various battery brands in table form. However, it will be necessary to verify that these compatibilities are also accepted by the regulations in the individual states.
The Storage Map is, therefore, a consolidated tool available to VP Solar's professional customers for choosing the storage system that best suits the customers' requests.
VP Solar, with the publication of the new Storage Guide 2020, which also includes the new Storage Map, provides the tools to best succeed in proposing a storage system for its renewable energy professional customers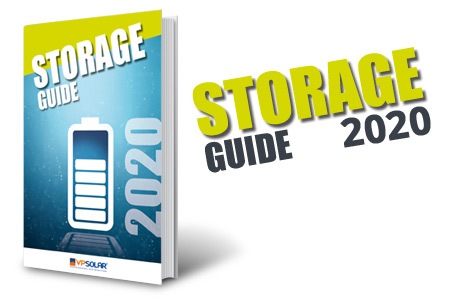 Storage systems on the AC side
DC side storage systems
Hybrid inverters
Compatible batteries
54 pages complete with descriptions
Interactive index
Available in 3 languages: English, French and Spanish