In addition to environmental and public opinion factors, the growth of photovoltaics is driven by cost reduction. From 2010 the cost of energy produced by a "utility-scale" photovoltaic plant, meaning installations in the order of GW , fell by around 70%.
From utility scales to the domestic
The reasons for the competitiveness of photovoltaics can be summarized as follows:
» Technological improvements both on the product and on the production systems;
» Simplification in project development systems;
» A broad and solid base of experience that allows to make accurate evaluations and predict the producibility in all the expected life of the plant;
» Renewable technologies can be easily scalable and modular.
Continuous technological innovation in the renewable energy sector in general is the key factor for continuous growth: reduced material costs, simplification and optimization of production processes.
Cina and Taiwan
The dislocation of production sites has changed over time: China and Taiwan have taken a dominant position with over 40% of global production, while Europe has gradually lost the slice that reached 2008 16%.
The advantages of small and medium
From the point of view of the cost of electricity generation, photovoltaics, even for small and medium-sized plants, is competitive and offers significant advantages.
Roof-mounted photovoltaic systems can compete on the retail price of energy, guarantee a production that is close to consumption and are obviously a starting point for storage.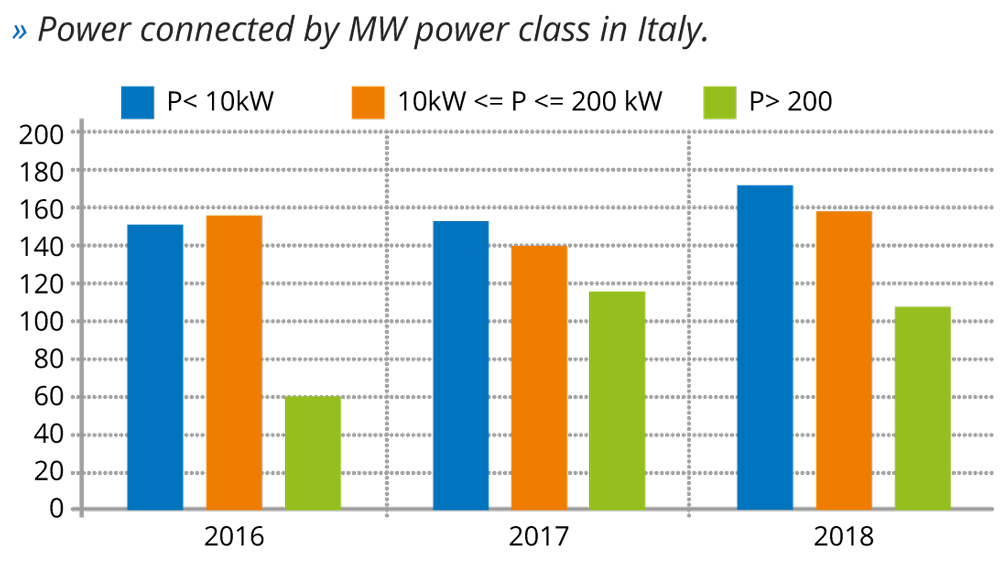 Necessary updates
For a substantial development, which among other things involves a considerable increase in business for the renewable energysupply chain, it is necessary that the legislative, incentive and technical panorama is updated with some tools:
the definition of the rules and the advantages, in order to make "aggregators" of both production and accumulation plants operate on the market;
load management in order to optimize self-consumption and energy storage. E-mobility is part of this sector in which the charging and discharging of batteries in the car can be coordinated with the state of the network and the energy produced;
promoting the advantages of solar photovoltaics as a smart, flexible, decentralized and green technology available to all;
the definition and regulations so that they can develop "social" energy exchanges through cryptocurrencies based on blockchain technology that will allow them to share the energy between the owners of photovoltaic systems and other users
Small and medium plants
The development of photovoltaics in small and medium-sized plants generates considerable development in the "local" renewable energy supply chain; widespread competences of professionals and installers are generated.
The price of photovoltaic: utility scales and domestic plants
was last modified:
June 30th, 2020
by