The photovoltaic modules market is facing a particular period due to the overlap of some factors that overall have led to an increase in prices which, according to analysts, will continue for the next few months.
Which are the components that are most affected by a shortage
An important factor is certainly eastern hegemony, especially in China, which has a dominant role in controlling components and therefore prices.
Solar glass
Among the components of the photovoltaic modules that have been most affected by the shortage is solar glass, 88% of which is produced in China and which other continental manufacturers have not been able to cover its needs.
Solar cells
Another fundamental component that has not been available in the quantities required by the market is solar cells, both for commercial policies and Covid-19, but also for some accidents in Chinese production sites: the price has therefore risen exceeding 16-17 €/kg.
Chinese export forecast of photovoltaic modules
The Chinese export of photovoltaic modules will, in any case, exceed 90 GW (from 1 GW it had in 2008 and 40 GW in 2018) on world production of silicon cells of about 160 GW (analysts estimate that the "nominal" production capacity of 250 GW will be used for 65% and it can be seen from the graph that China holds 58% of this potential).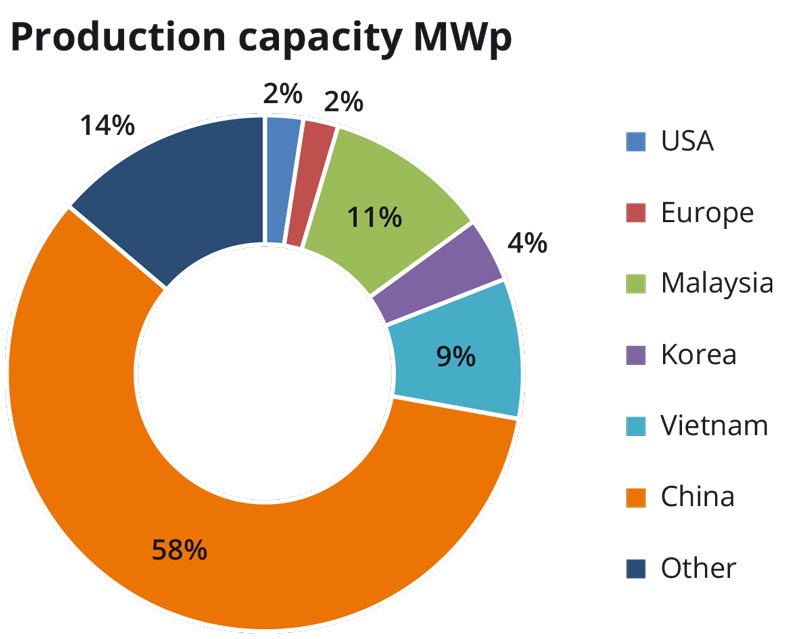 In addition to raw materials, there are also increases in logistics
In addition to the factors related to raw materials, this year there were also several "logistical problems": an increase in the cost of freight rates and shipping times, also resulting from the traffic jam on the Suez Canal.
VP Solar is a partner of the world's largest manufacturers of photovoltaic modules, which ensures excellent quality and performance; for more information contact us at the e-mail address: [email protected].