Among the most innovative and interesting products of Trina Solar, there is certainly the new double-sided DUOMAX Twin series that combines high-efficiency two-sided PERC cells with the double-glass design of the DUOMAX series.
Double-sided cells guarantee greater energy and power due the albedo
Thanks to double-sided cells, the DUOMAX Twin converts the reflected light into the back of the module, generating up to 25% more energy and 30% more power than standard laminated panels.
The double thermally tempered glass design ensures high performance even in harsh environments, with high humidity, high temperature and high levels of irradiation.
Over 30 tests (UV, TC, HF and many others) have been carried out on this solar panel, guaranteeing a PID-resistant product with little sensitivity to micro-craks, deformations due to UV rays or corrosion caused by sand, acids, alkalis and salt fog.
This photovoltaic module is ideal for ground installations, greenhouses, sound barriers, roofs with reflective sheath even in hostile environments such as desert or snowy areas or installations on water.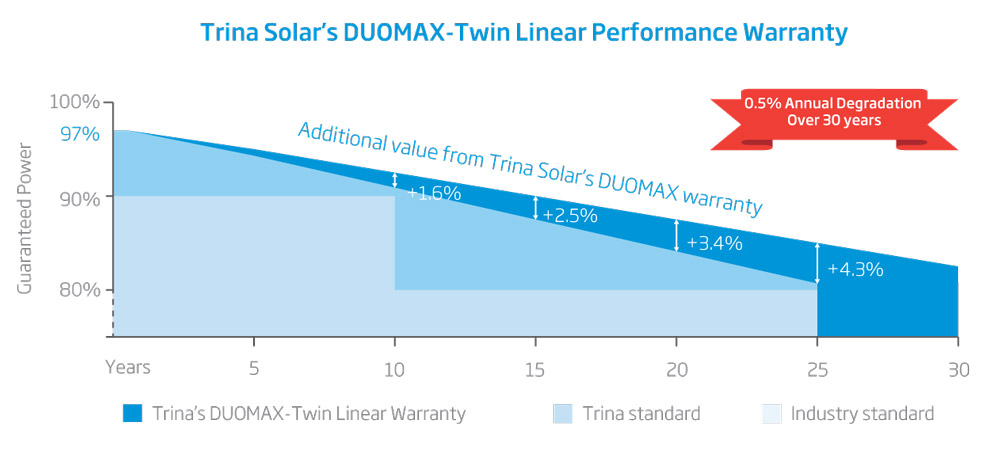 The DUOMAX Twin series has also passed the reaction to fire tests, obtaining the "Class 1" certification.
DUOMAX Twin Series – Glass-glass, double-sided cells (30-year production warranty)
DEG5C.07 (II): 60 double-sided mono-cells PERC: 300-305 Wp
DEG14C.07 (II): 72 double-sided mono cells PERC: 360-365 Wp