Among the most innovative and interesting products of Trina Solar, there is certainly the new double-sided DUOMAX Twin series that combines high-efficiency two-sided PERC cells with the double-glass design of the DUOMAX series.
Double-sided cells guarantee greater energy and power due the albedo
Thanks to double-sided cells, the DUOMAX Twin converts the reflected light into the back of the module, generating up to 25% more energy and 30% more power than standard laminated panels.
The double thermally tempered glass design ensures high performance even in harsh environments, with high humidity, high temperature and high levels of irradiation.
Over 30 tests (UV, TC, HF and many others) have been carried out on this solar panel, guaranteeing a PID-resistant product with little sensitivity to micro-craks, deformations due to UV rays or corrosion caused by sand, acids, alkalis and salt fog.
This photovoltaic module is ideal for ground installations, greenhouses, sound barriers, roofs with reflective sheath even in hostile environments such as desert or snowy areas or installations on water.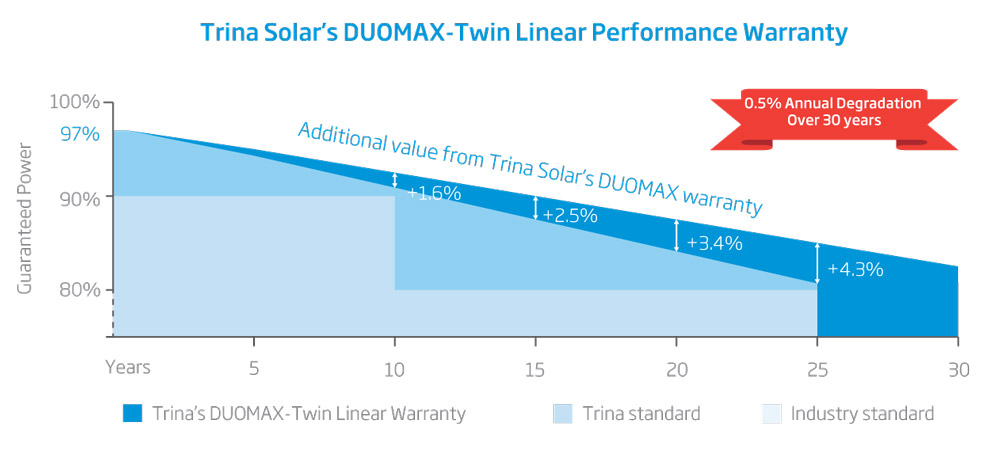 The DUOMAX Twin series has also passed the reaction to fire tests, obtaining the "Class 1" certification.
DUOMAX Twin Series – Glass-glass, double-sided cells (30-year production warranty)
DEG5C.07 (II): 60 double-sided mono-cells PERC: 300-305 Wp
DEG14C.07 (II): 72 double-sided mono cells PERC: 360-365 Wp
PV Modules, Trina Solar
Trina Solar: DUOMAX twin – bifaccial dual glass

---
Double-sided series with double tempered glass, with high efficiency PERC mono cells. Maximum resistance, excellent performance even in extreme conditions, up to 25% more energy and 30% more power.
30 year linear warranty, annual degradation of 0.5%
System voltage of 1,500 V
Frameless design
Datasheet English
Fiche technique Français
Hoja técnica Español (EU)
Datenblatt Deutsch
The bifacial dual glass  DUOMAX series combines PERC high-efficiency cells with the structure and double glazing of the DUOMAX series, ideal for installations raised off the ground or on the roof. Thanks to two-sided technology, they absorb solar radiation from both sides, generating up to 25% more energy, and allow a wide range of installation and inclinations.
Available in powers:
DEG5C.07 (II): 60 cells bifacial mono PERC  290-310 Wp
DEG14C.07 (II): 72 cells bifacial mono PERC 345-365 Wp
High output power
Increase total power output through generation from front and back side
Backside energy gain up to 25 % depending on albedo
Unique J-box design and installation method to avoid shading on the back side
Savings
Maximize limited size, savings in BOS and labour cost
30 year linear warranty, 0.5 % annual degradation
1,500 V system voltage reduces BOS costs by increased string length
Wide field of application
Deployable for ground mounted utility, greenhouse and agricultural projects
Special application like sound barriers on expressways
Compatible with major tracker systems
It resists extreme weather conditions
Module coating resistant to sand, acid, and alkali
2400 Pa wind load
5400 Pa snow load/li>
35 mm hail stones at 97 km/h/li>
Documentation and certifications: https://www.trinasolar.com/it/resources/downloads
Trina Solar: DUOMAX twin – bifaccial dual glass
was last modified:
January 11th, 2019
by
Bifacial modules DUOMAX Twin from Trina Solar
was last modified:
April 10th, 2019
by