The Sunny Tripower CORE1 is the third generation of the 3 phases SMA's inverter.
The Sunny Tripower CORE1 with revolutional solutions
In this inverter SMA's engineers have revolutioned the concept of configuration, installation and commissioning.
Thanks to the 12 inputs with 6 independent MPPTs the fuses protections are not necessary anymore.
The CORE1 has the DC switch and the AC/DC SPD in an option, thanks to this, there is no need of external DC components between modules and inverter.
The new mounting method facilitates both roof and ground installation
Through the integrated LAN / WLAN interface, the initial configuration is facilitated as well as tracking through dedicated apps both locally and remotely.
With these features from the logistic transport phase that during the installation and during use in the plant, the new Sunny Tripower CORE1 allows maximum savings both on the material and on the workforce so as to make the inverter installation easy and fast even on Medium and large commercial installations.
The salient features that distinguish it can be summarized as follows:
Convenience
• Easy to carry and install inverter
• Integrated DC switch
• String protection is not required
Maximum integration
• Integrated LAN / WLAN interface for interaction with any type of device
• 2 Sunclix inputs for each MPPTs reduce labor costs and less material (connectors included in the package)
• Optional AC/DC SPDs
Faster installation
• Quick connection to the network, thanks to the ease of configuration and commissioning of the inverter
• Accessible access areas
Maximum yields
• Overload up to 150% (to be verify depending on installation conditions)
• 6 independent MPPTs trackers for maximum production even with strong shadows
Inverter, Inverter for commercial and industrial PV systems, Photovoltaic inverter, SMA
SMA: Sunny Tripower CORE1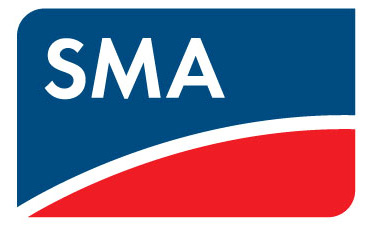 ---
From delivery and installation to operation, the Sunny Tripower CORE1 generates widespread savings in logistics, labor, materials and services. Commercial PV installations are now quicker and easier to complete than ever before.
Floor-mounted device easy to install
No DC fuses required
Integrated Wi-Fi access with any mobile device
12 direct string inputs reduce labor and material costs
Up to 150% DC:AC ratio
Six independent MPP trackers guarantee optimal energy production for every use, even in shading
Documentation
Top Performance and Maximum Efficiency
The Sunny Tripower CORE1 is the world's first free-standing string inverter for decentralized rooftop and ground-based PV systems as well as covered parking spaces. The groundbreaking new design allows reductions in installation time of up to 60% and, at the same time, lowers the total cost of ownership
Scalability for Maximum Energy Yields
With a capacity of 50 kW, the Sunny Tripower CORE1 is scalable up to the megawatt range
The unique design enables over-dimensioning of a PV array of up to 150%
Six independent MPP trackers guarantee optimal energy production for every use, even in shading
Consistently Integrated Concept
The innovative, fully integrated design ensures low BoS costs, simpler processes and lower material expenses
Alongside the 12 direct string inputs, a DC disconnector and, as an option, AC and DC overvoltage protection are integrated
Efficient and Economical
No additional mounting racks are required
Only a simple substructure is needed for other commercial PV applications
There are additional savings from the considerably lower expenditure on logistics, installation and materials
OptiCool™ Active Cooling System
Ensures reliable operation and maximum energy production
Fast, Easy Communication
Integrated Wi-Fi interface enables access with any mobile device.
Easy and uncomplicated configuration and commissioning with the SMA online assistant accelerate installation.
Smooth Grid Integration
Powerful PV system monitoring and control functions, SunSpec ModBus® compatibility and optional 24/7 remote monitoring
Learn more on SMA Core1: http://www.smacore1.com/mow/