Panasonic HIT® KURO "total black" module designed to offer high efficiency (19.4%) thanks to the best temperature coefficient in the sector, compact format with elegant design, cells, backsheet and frame completely black, with this the panel aesthetics fits most residential roofs.
Excellent performance at high temperatures coefficient of -0.258%/°C
The HIT® KURO module is the best in the industry with excellent performance and high yield even at high temperatures. This guarantees greater energy in summer and throughout the day.
Disponibile nelle taglie: 325 W e 320 W
Reduced degradation thanks to "n-type" anti-PID cells and reduced LID
The cells that make up the "type n" HIT® module significantly reduce light induced degradation (LID) in the early phases of exposure to the Sun and completely eliminate the degradation induced by the PID phenomenon, thus increasing reliability and durability.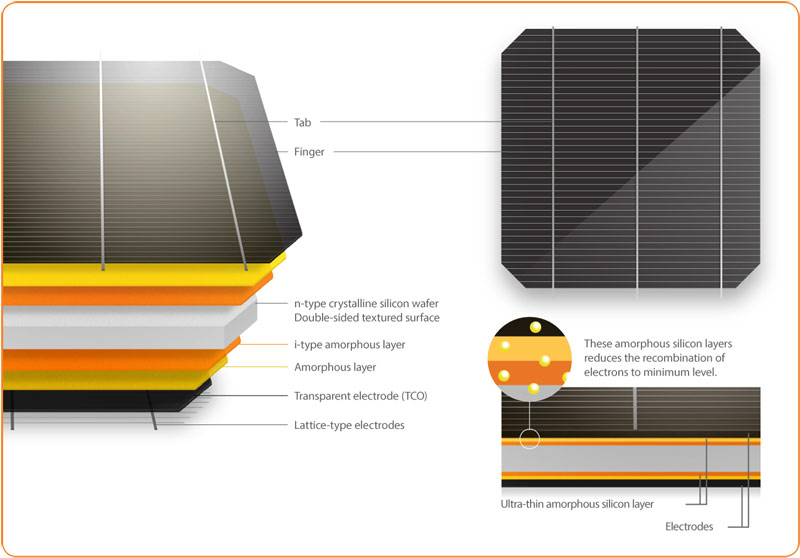 Quality, reliability and a 25-year warranty
Panasonic with more than 20 internal tests that are more burdensome than mandatory standards guarantees the highest quality and reliability of its photovoltaic modules.
The performance and product warranty is valid for 25 years (after registration of the system on www.eu-solar.panasonic.net, otherwise it is valid for 15 years on the product according to the warranty document).
The warranty on product, workmanship and performance of 25 years is guaranteed by a secular society: Panasonic. After 25 years the guaranteed power delivery is 86.2%, 97% 1 year, from the 2nd year -0.45% / year, to the 86th year 86.2%. 1 STC: temp. cells 25 ° C, MA 1.5, 1000 W/m².
Compact and durable design
The new generation of the frame with a thickness of 40 mm is able to withstand a wind and snow load of 5400 Pa, also thanks to reduced thickness can also be fixed via the short side.
Also this new frame, as for the whole HIT® series, maintains the exclusive water drainage angles, thus allowing a better self-cleaning of the module and therefore improving the long-term performance thanks to the minimum accumulation of dirt and dust.