The new K2 Base software ensures the fast, easier and safer design of mounting systems for photovoltaics.
With this new version, it is possible to calculate the new generation of Dome 6 flat roof systems with a simplified user interface and a new, very practical control panel. Furthermore, with the K2 + key it is now possible to import the calculation from the Base to the GoodWe and archeliosTM Pro simulators.
K2 Systems supports photovoltaic systems with simple mounting structures, both for flat roofs and pitched roofs, and facilitates their design with the free K2 Base software which provides the detailed installation plan, static verification and the complete material list of the structure.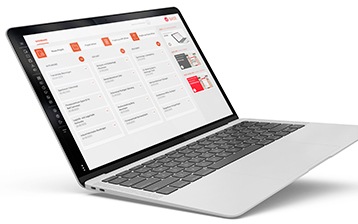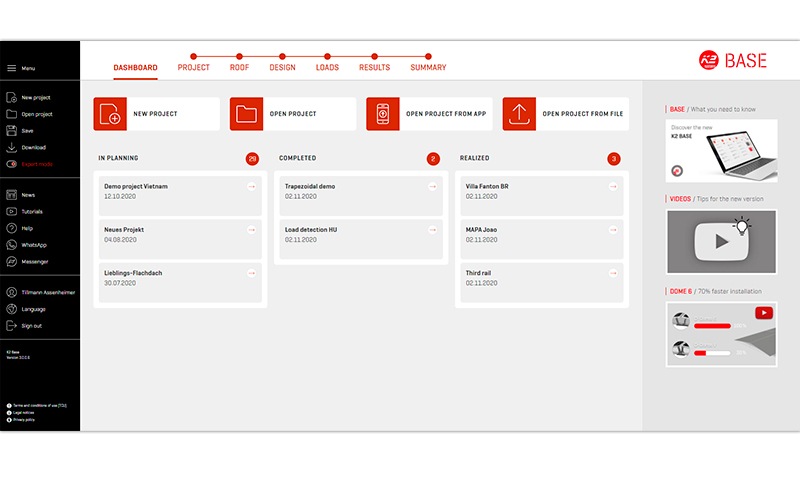 Develop projects efficiently with the new control panel
The control panel provides a complete overview of all projects in progress, completed and implemented. For each project, it is possible to select specific search filters and to the side, all the main information is summarized at a glance.
Easier planning process thanks to the new user interface
The new graphics make the design much more intuitive thanks to a clear layout, a modern look and many new options for navigation.
Faster calculation thanks to a new software architecture
The new version processes calculation data in the background more efficiently and allows for even faster design.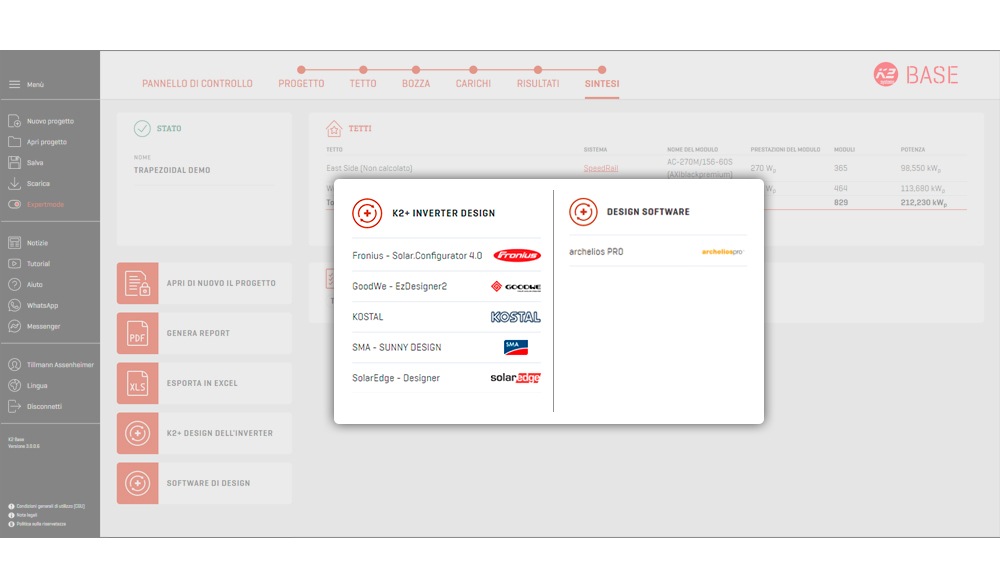 Time savings thanks to direct connection to inverter manufacturers' design tools and producibility calculation tools
It is possible to directly import the calculation of the plant to the design tools of SolarEdge, SMA, Fronius and Kostal and GoodWe as well as to the tool for calculating producibility archeliosTM Pro.
Possibility to select D-Dome 6 and S-Dome 6 systems
It is now possible to design the new 10° single exposure S-Dome 6 and double exposure D-Dome 6 flat roof systems.
The assembly time of these new systems is reduced by 50%, thanks to the pre-assembly of 80% structure and the new Dome Speed ​​Spacer that allows you to align the base profiles faster.
K2 Base now also provides the possibility to fix the system to the roof with the Dome FixPro Set, for roofs with inclination> 3° or with reduced overload capacity.
The new version of the K2 Base
The new version of the K2 Base makes planning even easier and faster. The free online software allows you to plan your project in five simple steps: Project, Roof, Draft, Loads and Results.