On 25th February 2015 VP Solar received the LG Solar Fastest Growth Award 2014, as the best distributor that in Europe had the biggest growth in LG Solar over the 2014.
A reward that repays passion, competence and determination
The prize was given at the end of LG Solar Partner Meeting, the annual gathering among all the European distributors for LG Solar. It takes place in order to discuss, analyze and share targets and ideas relating the market, products and innovative technologies.
During the event, where about 60 leading LG distributors had taken part, was introduced the positive change of the photovoltaics trend in Europe. This improves the forecasts also in the worldwide market, in strong growth.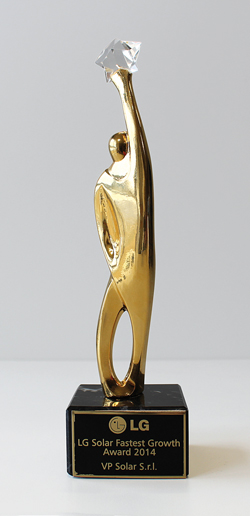 Furthermore Michael Haare, European Vice-President of LG Solar and Jeanette Kim, Senior Business Development Manager di LG Electronics, introduced the strategies guide lines for the company for 2015 in Europe.
Indeed, during these two working days a lot of innovations were introduced that would be implemented over this year, confirming the leadership of LG in photovoltaics sector worldwide.
Stefano Loro, founder and administrator of VP Solar, stated at the end of the works "It has been an exciting and profitable meeting. A debate with the best European distributors that come up with the certainty and the strategy of relaunching the whole photovoltaics sector in Europe. This new stage will be focused on the quality and professionalism of the products and operators.
The prize we received is a big pride because although the Italian market registered the worst trend, we obtain the best growth. I would like to share this prize with my team and with the over 1500 European customers that trusted us over 2014."
VP Solar, funded in 1999 close to Treviso, is now the technical and commercial reference point not only in the photovoltaics, but even in the energy management of buildings. We have consolidated skills relating heating, air conditioning, storage, lightning, automation and energy monitoring.