Sunny Design Pro allows you to design and simulate energy systems such as photovoltaic systems, generators and electrical loads, as well as other types of installations that can range from thermal components, such as heat pumps or cogeneration systems, to battery storage.
In particular, thanks to this new SMA solution, it will be possible to easily and flexibly manage the rates of withdrawal and injection into the network, as well as analyze consumption and load profiles.
By registering to Sunny Design Pro, you will have everything available. Just start the application via browser, iPad or Android tablet and enter the required data. Once this is done, it will be possible to take advantage of a professional system for managing your system.
What does Sunny Design Pro offer?
The energy management of a plant involves a whole series of monitoring, analysis and simulations, which cannot be guaranteed in all cases. Sunny Design Pro, on the other hand, presents itself as a cutting-edge solution, which ensures many features for a clear and complete energy management.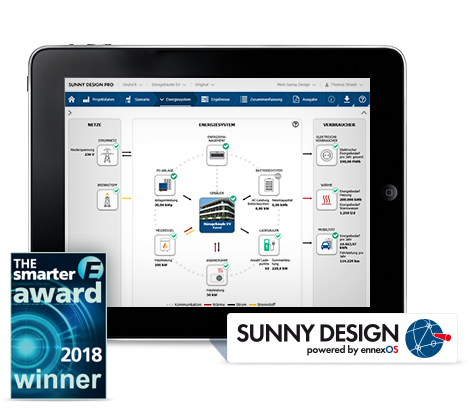 The various characteristics can be expressed in three aspects:
1] Complete
All sectors in one application
Complete simulation of the system, both thermally and electrically
Integrated energy management for photovoltaic systems
New: planning for charging electric vehicles, through the management of charging stations
2] Informative:
Detailed analysis of consumption
Display of the main energy and economic indices
Ability to compare numerous energy systems, both commercial and private
Advanced project documentation
3] Practical:
Simulation of storage systems
Clear and flexible management of feed-in and withdrawal rates from the network
Export of data for quick commissioning of the SMA Data Manager
Why use it?
Some of the functions present in this application are also present in the Sunny Design Web. On the other hand, the PRO version can boast exclusive features such as:
Design of energy systems with sector coupling
Accumulation simulation for peak cutting
Tariff management
Analysis of consumption data and load profile
Advanced project documentation
These are only available in the more advanced version of Sunny Design, thus offering better management of energy systems.