The annual meeting with LG Solar and the main European dealers took place on 21st and 22nd February.
Over these days, the new forecasts of the photovoltaics market were highlighted and in Europe they are very encouraging. In fact after many years 2018 was very positive. Even 2019 will see a sharp growth of solar panels installations in many EU countries and worldwide, involving perhaps shortage periods of solar panels with possible price increase.
During the event all the technology innovations of LG photovoltaics panels were introduced. LG is the market point of reference for efficiency, quality, performance and warranty.
At the end of the 2 days meeting, LG awarded the best European partners and the only Italian company prized was VP Solar, the specialized PV distributor from Treviso, that since 1999 has promoted the best technologies to the Italian and international market.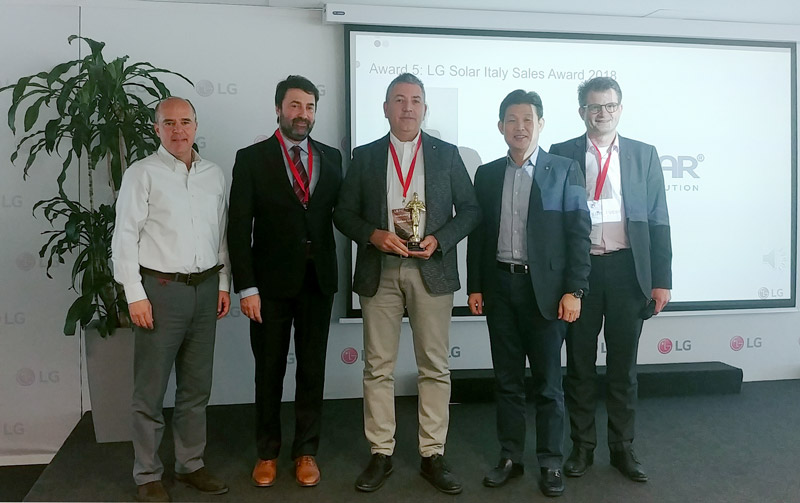 The company has provided to European installers and system integrators many commercial photovoltaics systems from 200 kW and over thousands of residential PV systems, often proposed in kits combined to other solutions such as storage systems and heat pumps.
"It is a prestigious prize and significant of VP Solar role – stated Stefano Loro, founder and company CEO. – This encourages us to improve even more our services reserved to the many companies of this sector that treat us as their key supplier and that allow us to develop significantly both in Italy and abroad."

"VP Solar is one of our key partners in Italy. We have been working together very successfully for many years now – stated Michael Harre, vice President Europe Solar Group LG Electronics.-  Both companies share the idea of providing top products and excellent service to our customers. We congratulate VP Solar for winning our 2018 LG Solar Best Sales Award for Italy and very much look forward to further expand our business in 2019".
LG Solar range is composed of the photovoltaics modules NeON® R with power up to 365-370 Wp, the  photovoltaics modules NeON® 2, the most sold, with power up to 335-340 Wp, and the photovoltaics modules NeON® 2 black with power of 320-325 Wp.
Products are in prompt delivery at VP Solar, that arranges quick shipments all over Europe, thanks to its integrated logistics based on SAP.