On 9th September SMA celebrated its 35th anniversary, with numerous guests from the worlds of business, academia and politics. VP Solar was invited to participate to the Event, thanks to the historical and strategic partnership with SMA.
"With courage, perseverance, expertise and passion, Günther Cramer, Peter Drews and Reiner Wettlaufer as well as their mentor, Professor Werner Kleinkauf, laid the foundation for SMA's extraordinary success story," said Urbon. "Their vision of a globally 100% decentralized and renewable energy supply is today becoming a reality in more and more countries." He asserts that SMA will benefit from further developments. "Even today, it is clear that the low cost of photovoltaics and the digitization of the energy industry mean that traditional business models are losing their significance. New business models are based on the network effect of specialists. As a specialist in PV applications, SMA is an important point of contact in this new world. It is for this very reason that we are entering into strategic partnerships. SMA's PV system technology will be a crucial factor in the success of the system of the future – in fact, SMA will be an integral part of the new energy market."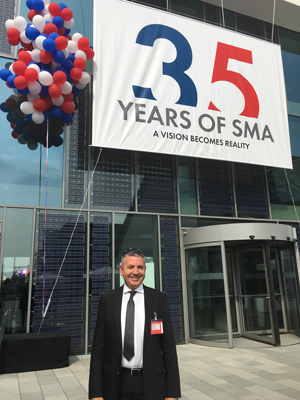 "SMA was pioneer in the development of worldwide PV sector" said Stefano Loro, Ceo of VP Solar " and SMA will drive it from the past incentive-based position to the future role of transferring the energy infrastructure from centralized to decentralized. In this new trend, Italy could find a new significant position because it is one of the first PV market in Grid Parity".
During the event, the SMA Solar Academy was renamed the Günther Cramer Solar Academy.
SMA sales in 2015 are about 1 billion euro; it employs more than 3,000 people worldwide. Since 2008, the Group's parent company, SMA Solar Technology AG, has been listed on the Prime Standard of the Frankfurt Stock Exchange (S92) and is currently the only company in the solar industry that is listed in the TecDAX index.
VP Solar is a distributor of energy systems from 1999, and it is an historical partner in Europe. It is able to propose grid-connected and off-grid solutions, dependenig on customers needs, thanks to its Engineering Department. Currently VP Solar is offering innovative technologies for storing energy and using it in smart way.
Read also: Sunny Boy Storage 2.5 by SMA