These two types of high voltage batteries, HVS and HVM, are distinguished by different characteristics.
The Lithium Iron Phosphate (LFP) battery offers maximum efficiency and durability combined with high safety standards.
Both models can adapt to all types of needs, thanks to the excellent flexibility and ease of use
Capable of High-Powered Emergency-Backup and Off-Grid Functionality
Highest Efficiency Thanks to a Real High-Voltage Series Connection
The Patented Modular Plug Design Requires no Internal Wiring and Allows for Maximum Flexibility and Ease of Use
Cobalt Free Lithium Iron Phosphate (LFP) Battery: Maximum Safety, Life Cycle, and Power
Compatible with Leading 1 and 3 Phase High Voltage Battery Inverters
Two Distinct Modules to Cover the Complete Range of System Sizes
Highest Safety Standards like VDE 2510-50
Battery-Box Premium HVS
The Premium HVS Battery-Boxes is composed of a minimum of 2 to a maximum of 5 modules connected in series, to obtain a usable capacity from 5.1 to 12.8 kWh per single battery pack. In addition, up to 3 series of modules can be paralleled at any time, thus reaching a maximum total capacity of 38.4 kWh.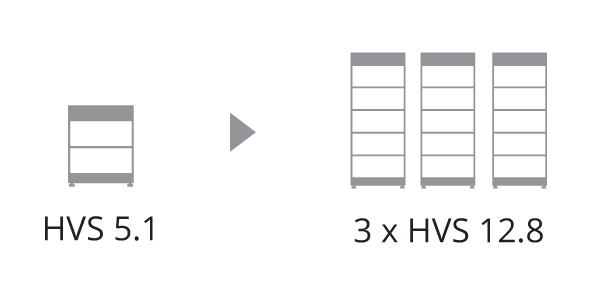 Battery-Box Premium HVM
The Premium HVM Battery Boxes are made up of 3 to 8 modules in series for an overall capacity of between 8.3 and 22.1 kWh. As in the case of Premium HVS, up to 3 series of modules can be paralleled, for a maximum capacity of 66.2 kWh.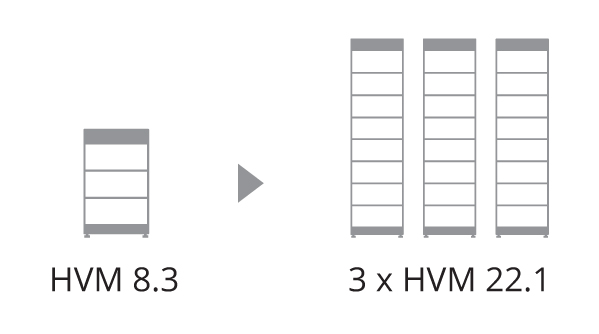 Both products have an operating temperature range of -10 to +50 ° C, with a charge/discharge efficiency of 96%. They have an IP55 degree of protection and a 10-year product guarantee.