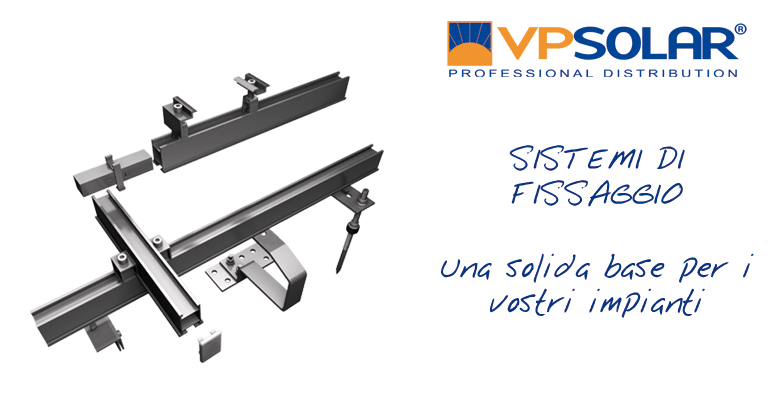 FIXING SYSTEMS SUITABLE FOR ALL TYPES OF ROOF
The fixing systems are the basis of every solar power system.
Choose high-quality products that can withstand the atmospheric wind stress, rain and snow is extremely important to provide firm support to photovoltaic modules. VP Solar since 1999, develops and sells mounting systems for photovoltaic systems made of high quality aluminum and steel and suitable for any type of installation: pitched roofs, flat roofs or installations on the ground.
All the products are constantly developed and improved in order to increase the adaptability and reduce the work time for mounting the installations.
The SIMPLY fixing system combines flexibility and functionality, facilitates the assembly operations and reduces the timing.
With this system, VP Solar introduces the cross systems and terminals in simplified locking, to be fixed to the profiles with special clips: the components are grafted in with great ease shutter. SIMPLY it sets new standards in terms of reliability as the profiles provide excellent stability despite its low weight.
Systems adapted to all types of hedges
Design of special customized solutions
Ensuring long life thanks to the use of high strength materials
Manufacture of all components in accordance with international standards
Constant checks on the quality of materials
Suitable systems for all types of modules, regardless of manufacturer
Our fastening systems combine quality, innovation and flexibility. No matter where will be installed the plant, thanks to its decades of experience with VP Solar will always find the right solution.
Discover how the Simply profile works
Simple and functional