FIXING SYSTEMS SUITABLE FOR ALL TYPES OF ROOF
Fastening systems are the base of every solar plant.
Choosing high-quality products that withstand weather conditions such as wind, rain and snow, is extremely important to provide a solid support to the PV modules. Since 1999, VP Solar develops and distributes mounting systems for photovoltaic plants made of high quality aluminium and steel. These systems are suitable for every kind of installation: tilted rooftops, plan rooftops or ground installations.
All the products are constantly developed and improved in order to increase the adaptability and reduce the working time for the system installation.
SIMPLY fastening system combines flexibility and functionality, it facilitates the mounting operations and reduces the timing.
Thanks to this system, VP Solar introduces cross systems and simplified locking clamps to fix to the profiles with specific clips: the components snap into place with great ease. SIMPLY defines new standards in terms of reliability since the profiles ensure an excellent stability in spite of their reduced weight.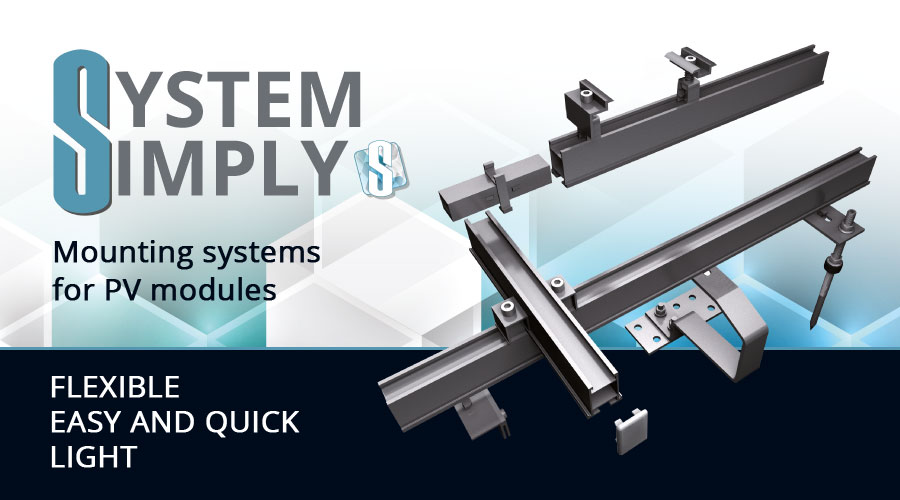 Suitable systems for all kinds of roofs
Design of special customized solutions
Long-lasting guarantee thanks to the use of high-strength materials
Production of all the components in compliance with international standards
Continuous inspection on material quality
Suitable systems to all types of modules, independently from the producer.
Our fastening systems combines quality, innovation and maximum flexibility. No matter where the plant will be installed, with VP Solar you will find the most suitable solution for you.
Discover how the Simply profile works