AEG manufacturer of photovoltaic modules has further increased the quality of its products by updating, on some ranges, the product warranty to 15 years, this change concerns some models of the AEG High Efficiency and AEG Premium series.
17.6 kWp installed in agricultural buildings in Sweden
In Sweden, a photovoltaic system with AEG High-Efficiency modules with a capacity of 17.6 kWp was built on the roof of some typical agricultural buildings.
The strong sensitivity in the country and Swedish farmers towards renewables, also due to the tangible effects of climate change with increasingly dry seasons that put the agri-food sector in difficulty, is leading the country to increasingly careful management of resources and the desire to cultivate sustainably.
Thanks to the incentives set up by the government, farmers invest in green solutions not only for economic savings but also to differentiate themselves by increasing reliability and corporate image.
The redevelopment of a building used as a barn with the installation of a 17.6 kWp photovoltaic system is one of the many solutions adopted by farmers to contribute to the transition to renewable energy.
52 AEG High-Efficiency all-black modules
The system was built with 52 330Wp monocrystalline AEG High-Efficiency all-black modules chosen for their high efficiency and constant yields, ideal for trapezoidal roofs.
The all-black design of the modules and the use of a completely black mounting structure make the installation integrated and aesthetically elegant.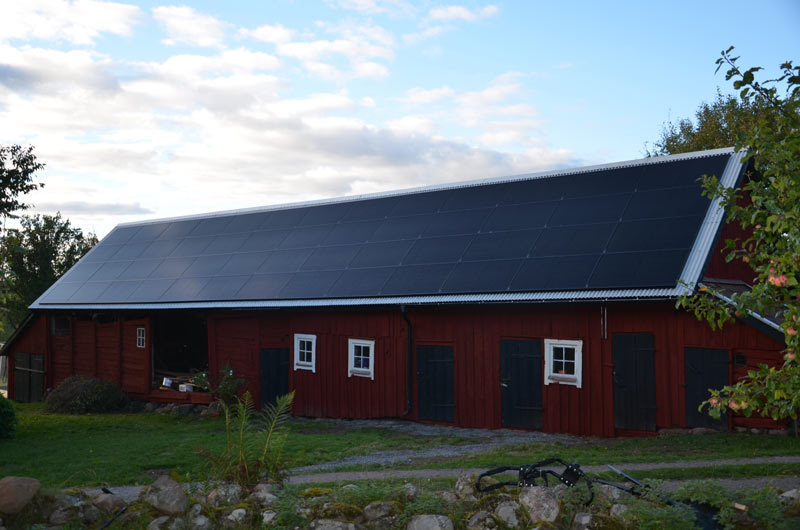 AEG, PV Modules
AEG: AS-M1203-H – monocrystalline – 120 half-cut cells – 340 Wp

---
High efficiency photovoltaic module with 120 half cells.
120 half-cut cells monocrystalline, multibusbar (9 cells); extra length cables (110 cm)
High efficiency: up to 340 Wp, efficiency 20.1%
Product certified IEC 61215:2016, IEC 61730:2016
12 years Product warranty, 25 years linear Power warranty
Disponibile: 340 Wp
Datasheet English
Datenblatt Deutsch
Certifications
Complete documentation
AEG solar modules combine the most advanced technology with high reliability in manufacture to offer you a product meant for high achievements.
AEG solar modules with half-cut cells and 9 busbar technology are designed to maximize efficiency and plant performance. The 110 cm extra-long cables allow more installation flexibility and comfort.
The careful selection of components (cells, backsheet and frames) ensures a premium product look and provides extra aesthetical value.