HISTORY & MISSION
Since 1999 VP Solar has been working in the distribution of components and systems for renewable energy and energy saving.
QUALITY & WARRANTY
We offer our customers the widest range of products high quality in the market and we guarantee competitive trading conditions.

DISTRIBUTION
We serve a growing number of retailers and installers throughout the country.

TRAINING
We offer a technical support customers organize and periodic briefings/training on technical and commercial issues
VP Solar, professional distributor for energy efficiency and photovoltaic.
Since 1999, VP Solar has been operating as wholesaler of components and systems for photovoltaic and energy efficiency. During these years, the Company has built and consolidated its role of reliable B2B supplier. VP Solar is widely recognized as expert in anticipating trends and in selecting innovative technologies and solutions for its customers: energy efficiency systems like efficient photovoltaic, thermal and thermodynamic, self-consumption solutions, intelligent energy management systems, LED lighting and high efficiencies appliances.
Thanks to our privileged relationship with the world's leading energy-efficiency-oriented manufacturers, VP Solar offers its customers the broadest range of high quality products in the market and at the same time guarantees competitive trading conditions.
We pay particular attention to the service offered to customers: not only our team provides clients with rapid and efficient responses, but also, we offer high-level technical and commercial trainings through our VP Solar Academy. Furthermore, in the Private Area of our website, each partner can find tailored-made tools for their work: catalogs, price lists, presentations, technical documentation and marketing materials.
Latest News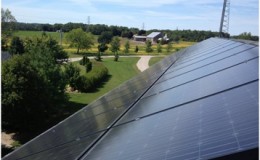 0.00381%, 137 rate claims in 3.5 million Panasonic panels sold in Europe since 2003. In fact the HIT technology provides one of the highest efficiency and reliable pv modules in the photovoltaics
»
Our Services
CONTACT US
For any further information please do not hesitate to contact us!
Or call our switchboard number +39 0423.6326.