The Sunny Home Manager 2.0 facilitates efficient use of its energy by monitoring all energy flows in the home or company.
The advantages
Energy management can be measured with a single device, consequently there are fewer components in the system
Predictive planning for measuring and controlling energy flows
Easy to Use
Plug and Play configuration after easy installation in the electrical cabinet
Future-oriented
Through the standard interfaces EEbus and SEMP it is possible to integrate several intelligent loads
Compatibility with standard radio sockets to simplify load control
Monitoring
This device monitors the status of the photovoltaic system but not only:
With Sunny Portal, it offers the possibility of displaying consumption graphs
Energy balance diagrams that illustrate photovoltaic generation and battery charging / discharging
Clear visualization of the main domestic energy flows
Possibility to access all appliances, view the state of charge of the batteries and the production of the photovoltaic system, Sunny Home Manager 2.0 is able to manage energy storage at maximum convenience. Based on this data, he knows exactly when the energy produced is to be fed into the grid or stored in batteries.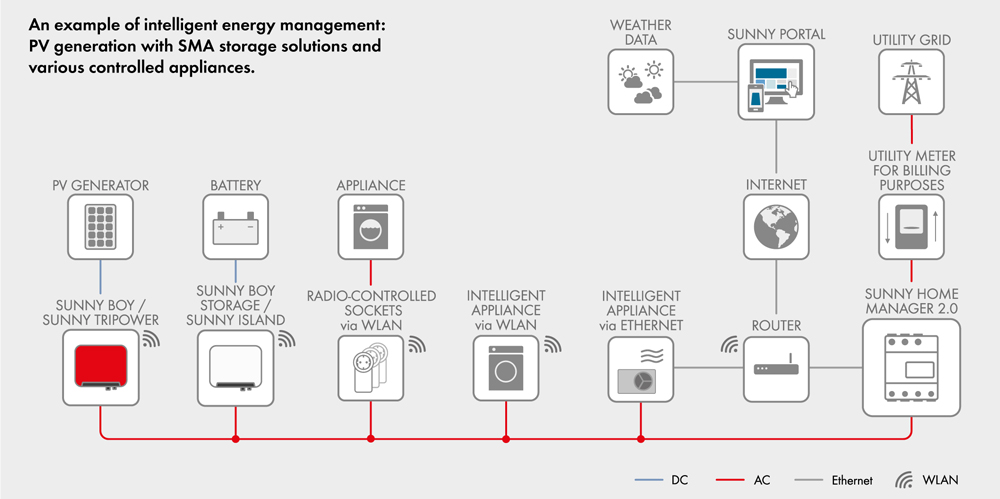 For more information and detailed documentation: https://www.sma-italia.com/prodotti/sistemi-di-monitoraggio/sunny-home-manager-20.html