Panasonic HIT® KURO is the brand new all-black module which features a high module efficiency of 19.7%, an industry leading temperature coefficient of -0.258% /⁰C and a sleek design.
Unique heterojunction technology
Panasonic's unique heterojunction technology uses ultra-thin amorphous silicon layers. These thin dual layers reduce losses, resulting in higher energy output than conventional panels.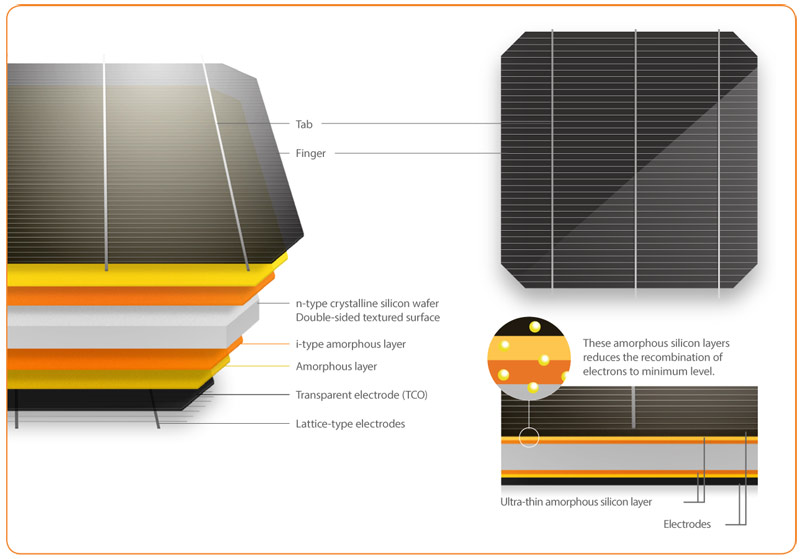 High Performance at High Temperatures
As temperature increases, HIT® continues to perform at high levels due to the industry leading temperature coefficient of -0.258% /⁰C. No other module even comes close to our temperature
characteristics. That means more energy throughout the day and particularly in summer.
Quality and Reliability
Maximum guarantees offered by Panasonic, over 20 years of experience in the production of HIT® modules and 20 internal tests (three times those imposed by standard standards).
Low Degradation
The particular type of cells that make up the "n-type" HIT module reduce light induced degradation (LID) and totally eliminate potential-induced degradation (PID), thus increasing reliability and durability.
25 Year Product and Performance Guarantee**
Power output is guaranteed to 86.2% after 25 years.
**  Registration necessary on www.eu-solar.panasonic.net, otherwise 15 years apply based on guarantee document).
Unique water drainage
The water drainage system gives rain, water and snow melt a place to go, reducing water stains and soiling on the panel. Less dirt on the panel means more sunlight getting through to generate power