Single-phase inverter range with battery charger for electric vehicles. Combines photovoltaic energy with that of the grid with the "Solar Boost" mode,
it allows you to recharge your electric vehicle at a speed 2.5 times faster than a standard vehicle charger.
Single-phase inverter with HD-Wave technology
Combines solar and grid power for EV charging up to 6 times faster than a typical Level 1 charger
Designed to work specifically with SolarEdge power optimizers
Record-breaking 99% efficiency and high reliability, powered by HD-Wave technology
Small, lightweight, and as easy to install and commission as a standard SolarEdge inverter
Saves space on main distribution panel to avoid potential upgrade
Built-in, module-level monitoring (monitoring connection is also required for first-time EV charging)
Advanced safety features, including integrated arc fault protection
Flexible selection of charger cable types and lengths (cable and holder ordered separately)
SolarEdge monitoring platform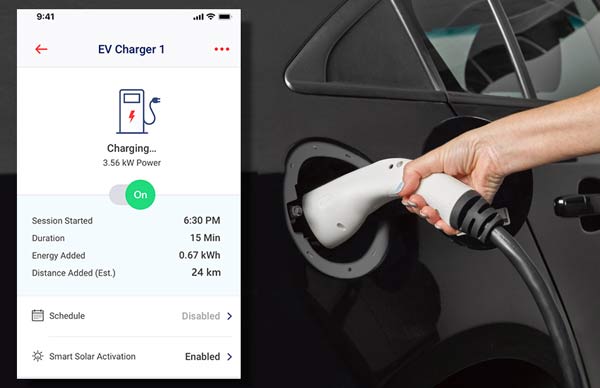 Perfect integration with the SolarEdge monitoring platform, you can monitor charge levels, set charging programs and check the status of the vehicle's charge.
Remote operation via mobile app — turn charging on and off
Easy inverter commissioning directly through your smartphone using the SetApp mobile application
Smart-scheduling for use with Time of Use (TOU) rates — charge from the grid during off-peak hours
Charging cable
Possibility to choose the type and length of the charging cable (cable and case to be ordered separately)
Warranty
12 year warranty, extendable to 20 or 25 years
For more information: https://www.solaredge.com/us/products/ev-charger#/